NUTRITIOUS K-12 SCHOOL FOODSERVICE PRODUCTS EARN AN A+ FOR 100% WHOLE GRAINS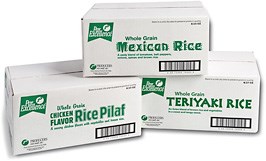 Whole Grain Seasoned Rice Mixes
Multiply your brown rice options with our flavor-packed Whole Grain Seasoned Rice Mixes. Don't let brown rice scare your kids away! Give them a little south-of-the-border heat, rich homestyle chicken flavor or the tasty tang of teriyaki from these convenient blends that cook in only 25-30 minutes!


For LUNCH homework, STUDY these FACTS about ParExcellence® Whole Grain Blends:
100% Whole Grain-rich
Naturally free of cholesterol, gluten, sugar & GMO
Flavorful and colorful… kids will never know it's brown rice
Made with parboiled brown rice* for great appearance, excellent holding and shelf stability
Lower sodium flavors for compliant menu planning
0 Grams Trans Fat
Labor savings: no prep, just add water and butter!
Flexible servings, 8/pack case: Each pack makes 25 ½-cup servings equivalent to 1 grain/bread serving and 1 whole grain serving
Serve 25 or 200!
USA Grown Rice – count on quality.
*Whole Grain Brown Rice is parboiled, which means the rice undergoes a patented steam-pressured process prior to milling. This results in a firmer rice that cooks separate and fluffy and extends the shelf life of the product. This 100% whole grain rice has been specially formulated to cook in about 25 minutes.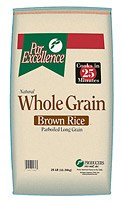 Your menu. Your budget.  Our rice: ParExcellence® Whole Grain Brown Rice.
Specially formulated to cook in only 25 minutes and 100% whole grain, ParExcellence® makes the grade.  And like all Producers Rice products, this high-demand school foodservice rice comes straight from the grower, assuring our customers direct and economical purchasing power. Learn More!

Contact Foodservice/Consumer Products Office
Contact us so we can get you talking to the right person and get you the information you need.
523 Louisiana Street, Suite M200
Little Rock, AR 72201
Phone: 501-374-9100
FAX: 501-374-8756