ARBORIO RICE MAKES PERFECTLY CREAMY RISOTTOS & RICE PUDDINGS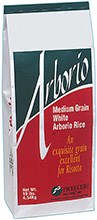 Sometimes called, "Risotto Rice," Arborio rice is known for its unique texture and flavor, yielding a creamy character when cooked, yet "al dente" on the inside. This pearl-like medium grain white rice with Italian origins is ideal for risotto recipes or rice puddings. Today, Arborio rice is grown in some U.S. rice-growing states, including Arkansas.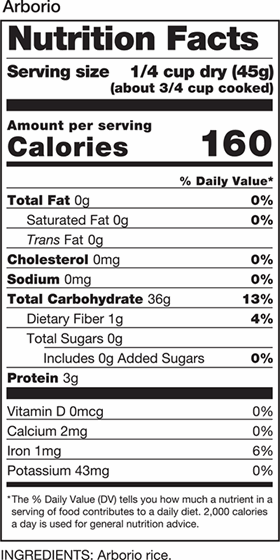 Tips for cooking Arborio Rice
Like pasta, Arborio rice is prepared al dente. When making Arborio rice for risotto, do not rinse the rice which can eliminate some of the starch. While cooking, very slowly add about 4 cups of stock or broth to 1 cup rice, frequently stirring and allowing the rice to fully absorb the liquid after each addition. While the rice cooks, it releases its starch, essential to giving the risotto a rich, creamy consistency. While stirring, it's better to use a wooden spoon as it is less likely to break the grains of rice than a metal spoon.
To find foodservice recipe options from the Think Rice website, browse here.
• Other Producers Products •
Contact Foodservice/Consumer Products Office
Contact us so we can get you talking to the right person and get you the information you need.
523 Louisiana Street, Suite M200
Little Rock, AR 72201
Phone: 501-374-9100
FAX: 501-374-8756